Andy Postle - Sound Recordist, Production Mixer -
Drama & Television Series Production Credits
Some of Andy's television experience and credits, which include many award winning television programs and dramas. 
For information about his documentary, film, commercial and branded online video experience, click on the link at the bottom of the page.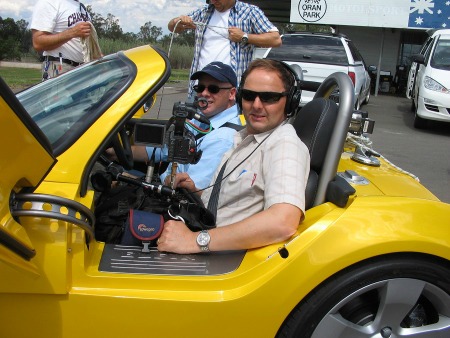 Filming the TV Series 'Drive' with Michael Stahl. Fairfax Digital for Network 10


Andy Postle - Location Sound Recordist,  Drama & Television Credits 

2018 - Drop Dead Weird, Series 2. 
The hilarious antics of Lulu, Frankie and Bruce as they move from down under Australia to a B&B in an isolated seaside town in Ireland with their parents, who just happen to be zombies. Sound Recordist Second Unit, Audio Assistant & Boom Swinger. Ambient Entertainment.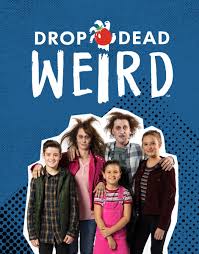 2016 - 2017  Home and Away - Seven Network 
Set in the fictional Australian town of Summer Bay, a small coastal hamlet just north of Sydney, is this long-running soap - it debuted in 1988 - that depicts the sun-drenched residents of a beach-side resort. The programme has served as an acting apprenticeship of sorts for a number of notable former cast members, including Heath Ledger, Isla Fisher, Julian McMahon, Dannii Minogue, Simon Baker, Guy Pearce and Naomi Watts.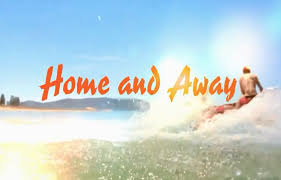 2013-2018: Grand Designs Australia - Freemantle Media, Location Sound Recordist, Various Episodes.
Architect Peter Maddison returns for his 7th series on Grand Designs Australia.


2014: So you think you can dance? -  Shine Australia
So You Think You Can Dance Australia is an Australian version of the American reality dance competition So You Think You Can Dance. The show hosted by Carrie Bickmore, with judges Paula Abdul, Shannon Holtzapffel, Jason Gilkison and Aaron Cash.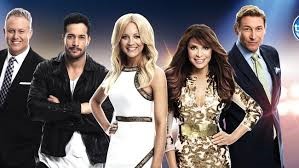 2014:
Josh's House - Townsville VAM Media - Dir. Brendan Hutchens
Catalyst: ABC TV
40 Years of Triple J  - ABC Documentary

2013:
So you think you can Dance, Series 4, Shine Australia
Adam Hills Tonight – TV Series, ABC TV
Catalyst - ABC TV
At the Movies – ABC TV



2013: The Hamster Decides – ABC TV
Sunrise – Network Seven Sydney
Today Tonight – Network Seven Sydney
Mornings – Network Nine Sydney
Healthy Me TV – Brand New Media -  Web Series

Disney Channel Shoot - Austin & Ally "Hanging with Ross & Laura"
TV Special Location Studio Shoot - Multi Camera – Award Winner. 

The Bottom Line – Web Series - Evolution Media Group

BPMTV – Online Music & Entertainment Show – Chief Entertainment.

The Naked CEO – Evolution Media Group – For Web & Network Nine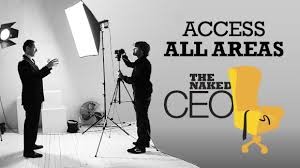 2012: Who Do You Think You Are?  Series 4,  Artemis Films

2011/2012: The Bottom Line with Alex Malley - Evolution Media 
Leadership Lessons for the Next Generation, Eps;
Bryce Courtenay, Ita Buttrose, The Hon. Michael Kirby AC.

2009: No More Practice - Evolution Media 
Educational Online TV Series

2009: Masterchef - Fremantle Media

2009 – ABC TV - You Only Live Twice -  The Incredibly True Story of the Hughes Family

2009 - Lion Hudson Publishing, UK - Jesus a Short Life - Contributing Photographer

2009 - Local Heroes - TV Series - Eyeworks Productions

2008: The Chopping Block TV Series - Location Sound Mixer
The Restaurant Challenge was on again.  This time the production setup was bigger and better and did not miss a moment of the action. With Chef Matt Moran judging restaurants across the country we used 12 Track Location Sound Mix to Hard Drive Recorders, with Timecode Sync Locked to Multi Cameras and 3 Auxiliary, Producer, Director & Cameraman independent IFB Feed Mixes.
2008: Medical Emergency (TV series) - Location Sound Recordist/ Producer,
Series Producer: Maxine Grey
Medical Emergency is an Australian reality television series screened on the Seven Network. Medical Emergency is narrated by actor Chris Gabardi who also appeared in the drama series All Saints. Medical Emergency was filmed under strict protocol at Melbourne's Alfred Hospital and Sydney's St George Hospitals' trauma units.
Medical Emergency was a ratings hit in Australia and screened alongside other popular Channel Seven reality series such as Border Security, Police Files: Unlocked and The Real Seachange.

2008: Owner Builder Australia,  - How To Channel Series - Location Sound Recordist
Owner Builder Australia is the essential resource guide for inspiration and information to help you unscramble the owner builder puzzle. The hosts, together with real owner builders and experts in the field, deliver you first-hand experience, knowledge and advice on a range of topics central to owner building.
2007 Who do you think you are? - Series 1, Cate Cebrano

2005: Drive, Fairfax Media - Network Ten.

2005: Compass - ABC Television - Feature Episodes - East Timor
The Sister Lourdes Mission & Peace & Reconciliation Process Stories
Director & DOP -  Catherine Marciniak.

2005: Celebrity Love Island  - FIJI Shoot for UK Television, Granada Productions

2003: Australian Idol  - Channel 10 - Studio & Location Sound

2003: Saturday Kitchen - Channel Seven

2003: All Saints  - Drama - Channel Seven, Location Sound 2nd Unit
 
2003: The Block Series II - Channel Nine
2003 Saturday Kitchen - Australian Cooking Series -  Channel Seven

2001: Live This! - Channel Ten - Lifestyle & Travel Show
Overseas Travel Segments with DOP Geoff Thomas

During 2001 as the Live This! travel crew, Geoff Thomas & I, along with Leah McLeod and Rob Palmer, (presenters) travelled first to the Cook Islands and then America to shoot stories in San Francisco and Skiing in Lake Taupo.

2000: Selling Australia - Prospero Productions Series for ABC TV.

Character based look at Australian Tourism through the eyes of our visitors from around the world.  A look at how the world viewed Australia in the run up to and during/after the Sydney Olympics. Selling Australia, is a fascinating look behind the scenes of Australia's multi-billion dollar Tourism Industry. The four part series goes behind the world of glossy images, icons and holiday dreams, and finds a powerful force involved in reflecting and influencing the very fabric of the country's national identity. With a backdrop of iconic Australia, this series gets under the skin of Australia's biggest export earner and with unique access to major organisations, businesses and people, the hopes and dreams of tourists and industry players are revealed.

Australian tourism is selling the image of the nation around the world but as we catch our reflection in the global glare is it an image we recognise?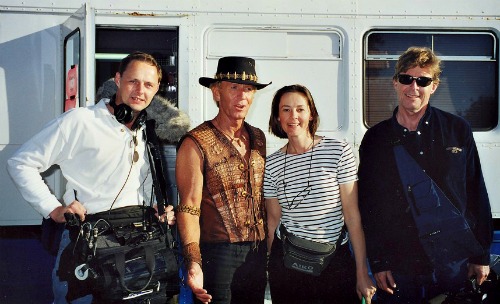 Working on Selling Australia with Paul Hogan, Julia Redwood (Producer)  and Phil Bull (DOP) 

In 1984, the Australian Tourist Commission launched an advertising campaign promoting Australia to the world. The commercials not only made the country a number one holiday destination, they also put forward an image of Australia that, to this day, remains fixed in foreign perceptions. Nearly 20 years later, actor Paul Hogan is back for the latest campaign and it's proving the most successful ever. But does the image of Crocodile Dundee on a beach with a koala have the country trapped in a timewarp? And how does the bush legend fit with the contemporary reality of a largely urbanised nation that is increasingly sophisticated and cosmopolitan?
A Film Australia National Interest Program in association with Prospero Productions Pty Ltd. Produced with the assistance of the Australian Broadcasting Corporation. © 2011 National Film and Sound Archive of Australia.
2000: Hot Property - Beyond Productions, Channel Seven, Series.

1999:  A Fare Exchange  - Cookery Series - TV12
Shot in Singapore,  DOP: Alvin Lee
1998: Dateline  - "The EURO" is Coming"  - SBS TV
European Monetary Union Shoot:  Belgium, Germany & Italy.
DOP: Greg Kung,  Producer/Reporter: Joanna Saville

1998: New Zealand Stories.
NBC America, Dateline Program Various Stories in New Zealand
DOP Roger Buckingham & I travelled to New Zealand to shoot two stories in Two Extremes of conditions - the first at sea level on the Helicopter Ocean Rescue Team and the second up in the high country on the amazing survival of an extreme skier who survived a 5 km fall.

1996/7:  Water Rats - Drama, Second Unit Sound Recordist. Various Episodes.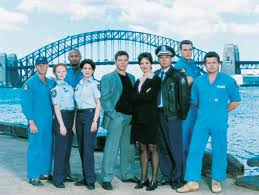 Return to other credits including film, documentary, corporate and branded online video and commercial experience.
For full information on Andy Postle - Television Sound Recordist - Go to Home Page
For Bookings - 61 (0)415 903 499 or fill out the Contact Form